History: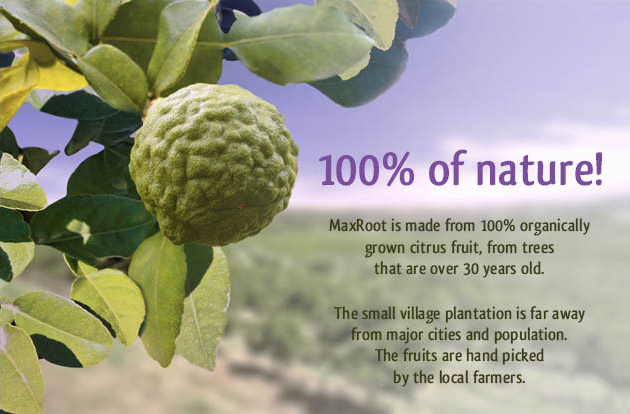 The MaxRoot Fruit extract has been used since old age in the northern parts of Thailand in a particular and secret way of preparation to maintain health and beauty of the Siam people's shiny hair. The type of fruit used is know in Asia as Makroot fruit, and in other parts of the world as Kaffir Lime. The scientific name is Citrus Histrix. Makroot leaves are also used as a main ingredients for Tom Yang Kung, a traditional Thai dish. The pealing of the fruit has been used in massage oils.
Max Petitjean discovered the power of this fruit and it's effects during his extended travels in Asia and applied a world patent for the preparation of MaxRoot in November of 2010. The name MaxRoot was derived from the inventors name Max and the way of discovery, the Root of his studies. Trade Mark brand application for MaxRoot has been done.
The study of MaxRoot was a joint effort between Max Petitjean (who is a Swiss National and 35 years resident of Japan), and some leading Japanese Cosmetic company. Apipol Farma Japan K.K. applied for the first Cosmetic license for MaxRoot and it's distribution in Japan.


We analized several types of the Fruit, and found, that the ones grown in the countryside of Buriram, some 500 km north from the city of Bangkok and some 100 km north west from Cambodia had the right vitamin mix for our use.
The fruit farms are away from any large civilization and we have applied for Organic certification. Due to the rising demand in MaxRoot, we started a new Organic plantation with currently 500 trees which will finally have 2'500 trees, purely used for MaxRoot and the beauty of your hair.
The fruits are all Organically grown and harvested by the local farmers as shown on these pictures.
This is the 2nd phase plantation, with 500 trees, and the Organic Inspector. The plants are watered with an irrigation system from the clean natural river water trans passing our Organic farm.